On today's ladyboy gold videos update we have this incredible sexy teen dressed in leather and posing sexy for the camera. Ladyboygold Amy came to our studio one day and told us that she wants to be part of our next video on site. We agreed, of course, because even dough she was wearing street clothes we could tell that under that regular outfit is hidden a sexy body. She picked up something to wear from our wardrobe and the photoshoot began. Cum inside and watch sexy Amy posing in her naughty leather outfit. Amy is here to tease you with her sexy outfit and we say that she's going to do a pretty good job at it too.
Amy describes herself as a showoff, and with a sexy body like hers it's not a surprise really. Well for today, sexy miss Amy will be displaying her sexy curves to you and you'll also get to see her play around with her nice and big cock as well. Watch this show of hers start off with her making her entry wearing her super sexy and skin tight latex dress. AS she poses around you can see that she was wearing no panties and her cock was hanging and dangling below as she moved. When she removes her dress you get to see her take her spot on the chair, and this hot babe starts to masturbate for your enjoyment too after her nice little posing session.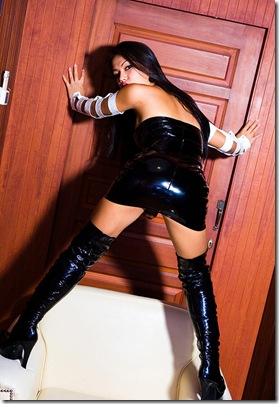 Check out Amy showing her black boots and tight dress!